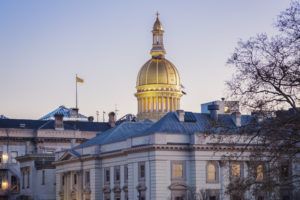 New Jersey is significantly increasing the number of business licenses in its medical cannabis program, with the announcement Monday that the health department will issue up to 24 new permits.
But the number – which includes four vertically integrated permits – is far fewer than the 108 licenses that the state said in June it would issue.
The smaller license pool makes the licensing round more competitive. But each permit also will be more valuable as a result.
Previously, the state had issued 12 vertically integrated permits in two rounds of licensing.
New Jersey is moving to expand its fast-growing medical marijuana program after lawmakers failed to agree on adult-use legislation.
New Jersey cannabis attorney Rob DiPisa said in an interview with Marijuana Business Daily last week that people were looking forward to 108 licenses being issued "because the last one (round) was so competitive that it almost excluded mom-and-pops from the industry."
So, he expected many would be disappointed if only 24 permits were issued.
Application forms will be posted by July 15 and due back by Aug. 21 for dispensary applications and Aug. 22 for the others.
Here's how the licensing breaks down:
Northern Region: 2 cultivation, 5 dispensary and 1 vertically integrated (grower, cultivation, and dispensary).
Central Region: 2 cultivation, 5 dispensary, and 1 vertically integrated.
Southern Region: 1 cultivation, 5 dispensary, and 1 vertically integrated.
One at large vertically integrated permit.
Applicants may seek up to three permits in total but may submit only one application per region.
Applicants for a vertically integrated permit may submit only one application.
The 2019 Marijuana Business Factbook projects the New Jersey MMJ market will reach $95 million-$120 million in sales this year, up from $50 million-$60 million in 2018.
Jeff Smith can be reached at [email protected]