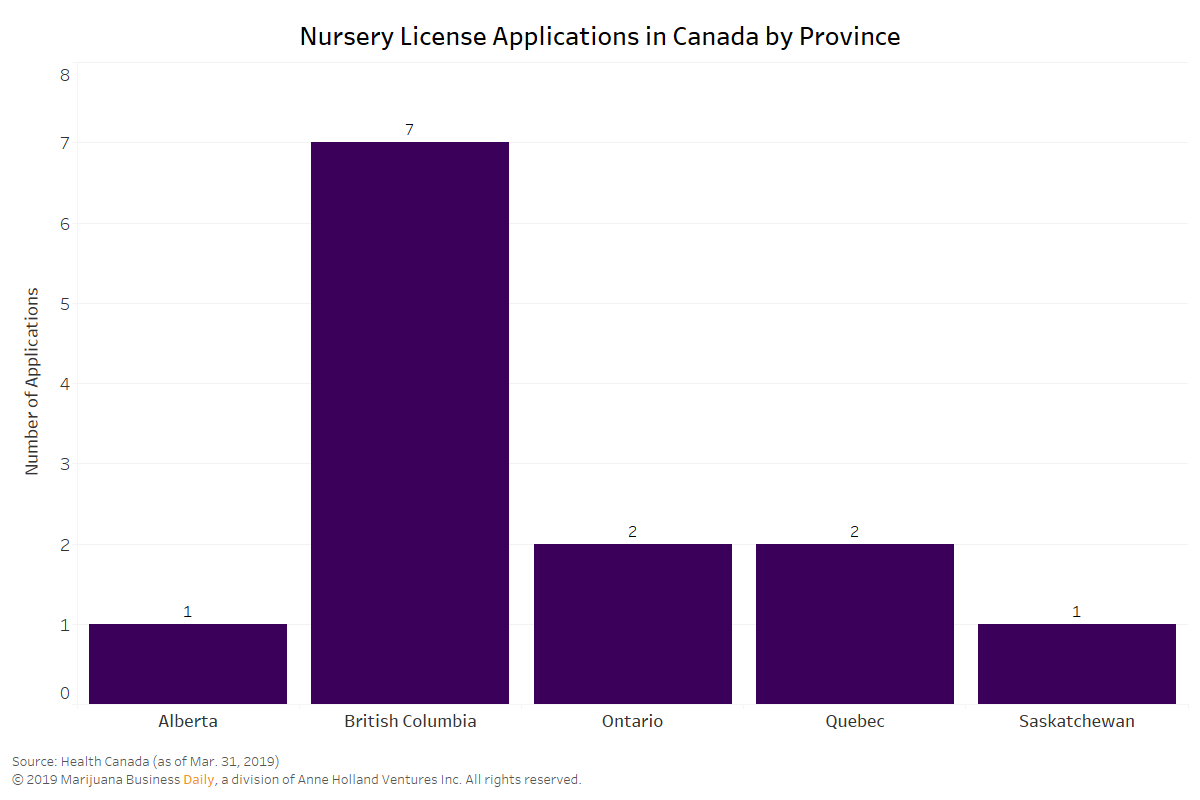 Provinces and territories have the authority to approve on-site retail sales of cannabis plants and seeds to consumers by federal nursery license holders, Health Canada has confirmed.
Such a move would unlock commercial opportunities for regulated businesses to compete with the thriving illicit home-grow market – but, so far, no province has been willing to take that step.
"There is nothing in the Cannabis Act that would preclude a province or territory from licensing a federally licensed nursery for retail sales of plants and seeds to consumers in that province or territory," Health Canada spokeswoman Maryse Durette told Marijuana Business Daily.
The nursery would need to ensure that it followed all applicable federal and provincial or territorial requirements for its license class, including rules on how plants and seeds must be packaged and labeled.
A nursery license is a relatively new federal category that allows holders to produce and sell cannabis and hemp genetics, including seeds and clones.
InPlanta Biotechnology was recently awarded the first such license.
The company wants to sell its genetics on-site to consumers, as well as to provincial wholesalers – starting with its home province of Alberta.
However, InPlanta was told by the provincial monopoly cannabis wholesaler – Alberta Gaming, Liquor & Cannabis – that it is allowed to sell only to other licensed processors and cultivators.
"It does appear the province will not allow us to have on-site sales and will not allow us to sell directly to the Alberta Gaming, Liquor & Cannabis (AGLC)," co-founder Darryl Hudson said in an interview, even though the nursery license allows sales to wholesalers.
"If we could have on-site sales, being in Lethbridge, Alberta, I think people would drive a significant distance to visit us and see what we do. I think most people prefer to do things legally," he continued.
"It would be good for my bottom line, because we've had an R&D license and it's difficult to monetize things from R&D. Now that we have this nursery license, it's difficult to capture the market that exists. We're limited supplying other licensed producers."
Market imbalance
Ontario-based Natural MedCo became the first standard cultivator in Canada to offer marijuana clones to legal recreational consumers.
However, legal supply has thus far failed to match up with the significant demand for cannabis starting materials in Canada's home-grow market.
Wholesalers in Canada's largest provinces – Ontario, Alberta and British Columbia – stock almost no seeds or clones.
Newfoundland has only two sections of highly priced seeds on offer, and its plants from Eve & Co. are listed as "coming soon."
Need to know: Nursery licenses
So far, InPlanta has the only nursery license in Canada.
Another 12 applications are in the queue, according to Health Canada. British Columbia leads with seven nursery applications, followed by two each for Ontario and Quebec and one for Saskatchewan.
Nursery licenses are intended to enable a regulated supply of marijuana seeds and plants for commercial and home cultivation, as well as the development of a wider variety of cannabis.
A federally regulated nursery license authorizes the cultivation of any variety of marijuana plants, including seeds and seedlings, as well as industrial hemp.
The license also authorizes related activities, such as research and development, storage, transportation and destruction.
Nurseries may sell live seedlings and seeds to other licensed cultivators, processors and researchers.
Holders of nursery licenses may also market plants and seeds that are packaged to provincial distributors or retailers, as well as to federally licensed sellers of cannabis for medical purposes.
Alberta authorities did not immediately reply to queries from Marijuana Business Daily.